Hello there, grab a coke & popcorn, strap yourselves to your chairs and enjoy my tale. As you all may know, scammers/lurers can get quite complicated and elaborate with their schemes. What happened to me took place over the course of many weeks and the scam came in the form of what I thought...was just a friend.
Around the end of may, a random fellow by the name of iceman855 sent me a private message. He worded it as if he had known me for a long time. I figured well shucks maybe he's someone I deleted from my friends list years ago. We began chatting about stuff like the usual runescape friends do. It was around the time I started playing on runescape 3. We would often joke back and forth about that. iceman: "what's up dude?"  me: "nm m8 just chillin' on easyscape." Ocassionally he would talk about how he makes so much money off of anti-luring at the temple of Ikov bridge and would always hint at wanting me to join in on that. For the longest time I just continued on with my own business.
I thought the guy was full of it, always boasting about how he would make upwards of 20m a day from scamming the scammers. iceman: "hey guess who made 25m today?" was a common greeting message upon my first log in of the day. As skeptical as I was, I was also intrigued... we met at clan wars one day and he was using full 3rd age mage gear in the free-for-all portal. huh, I thought, there must be some merit to this anti-luring mumbo jumbo after all.

me: "say, iceman. I'm still in doubt about this anti-luring stuff, care to explain how it works?" At first he insisted that I joined him so he could simply show me the process. Still, I carried on with my own business. By this time we're in july. Eventually I persuaded him to just explain it to me over private message. Some of you may know of the bridge lure already, but it works by using weight to make the victim fall off the bridge after they've dropped their items on the floor. The scammer then proceeds to pick them up as the unfortunate sucker tries to race back. He told me that I should stand at the ge on a populated world and wait for someone to approach me and offer me a chance to play their "game". They give you some equipment that, combined with boots of lightness, puts you at 0kg. In my case it was a bronze med helm and a wooden shield. Along with that you bring some of your valuable items. The scammer will adjust the prize money according to the value of the items you drop. While at the bridge, the scammer will tell you to drop the items and then meet him at the other side to claim your prize money. The funny part is that in addition to the money, they also give you an item that weighs 1kg, hoping that the sucker will forget about that and attempt to cross the bridge again with it in their inventory. iceman demonstrated this to me by giving me a steel bar and a few coins. iceman then told me that by dropping this 1kg item before crossing, I can essentially scam the scammer and get their money and my items back. Sounds stupid right? I could hardly believe how any scammer would think people would go for that mess, let alone give away large sums of money on a scam that could easily backfire. The steel bar will be an important part of the story later, remember it.

I must admit, for a moment he actually had me thinking this could work. However, I still knew he was full of it deep down. I decided to play along with his little game and we went to the ge to get my first "victim", to...initiate me into the anti-lure club. Never, I repeat, never have I been approached by someone offering me money to play this bridge game. But within minutes of me and iceman standing at the ge I was targeted by a shady fella named opsmasher. He explained to me how his game would work. The part about the additional item was also a steel bar, suspiciously the same item iceman used to demonstrate with. I knew something was very fishy here. Of course I suspected it was iceman himself coming to me with an alt account. I also accused him of that, he denied it. Still...I decided to continue for experimental purposes. opsmasher was trying to get me to bring my saradomin godsword and my full cash stack to the bridge. I haggled him down to 10m and bandos tassets. We went to the bridge and played the game, or so he thought.
As far as he could tell, it was all going according to plan, but I did not actually drop my items. During this whole thing I was talking to iceman, keeping him updated of my "progress". I still suspected it was him who owned both of these accounts. I told him to spam me private messages while this was happening so I could be sure he wasn't dual logging. "brb I have to pee," he said. Well...during his little pee break, opsmasher ran across the bridge. I only got pm's from iceman when opsmasher wasn't moving. Not suspicious at all right? I ran across the bridge with more than 0kg of weight, which in his eyes at the time was a double screw up on my part. He must have thought he got me so good.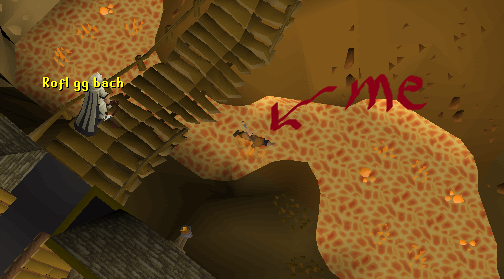 Once recovering from the lava, I couldn't help myself. I teased the hell out of the guy. After a few minutes of no items appearing he got angry and started insulting me. I told iceman about it, he thought it was funny. I then told him that I wasn't too keen on making money this way and I would rather go boss. He took it personal and got quite hostile, saying things like I don't trust him and what kind of a friend are you? Very strange stuff... despite this, the next day he was friendly again and chatting with me about the same ol' stuff. I began to have a slight doubt about him being the scammer, and so I invited him to our clan wars gathering with xiahou cow today on july 11th. He joined the clan chat 2 hours before the event and said very little. He never showed up. This is where it gets funny. Every criminal slips up eventually. As me and xiahou were conducting wars in the tournament world 352,  opsmasher approached me and said "hey I'm iceman!" and challenged us to a war. The ignorant little goblin must have thought that I forgot about that name. And then...empowered with knowledge, our hero general McLeod went on a manhunt for the slimy iceman!! Cornered in Lumbridge, he had nowhere to go. And that is where I defeated him with a mighty combo of super attacks! *Insert Two Steps From Hell music here*
Take this!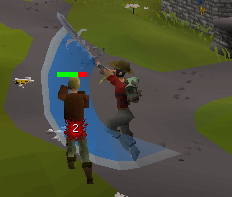 This!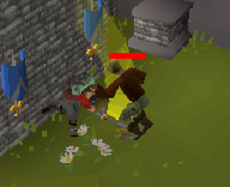 And this!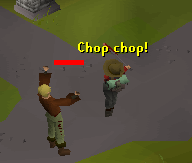 And now, for the final blow!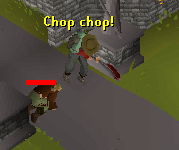 And thus the world was rid of iceman855 the scammer.
Ok that's not really how it happened(should have been though). After slipping up, I simply pm'ed him saying "did you really think I would forget the name?" He said, "huh, I'm confused." I told him that some guy named opsmasher came up to me claiming to be you. "Oh yeah I made a pure a few days ago."  After that I said, "do you take me for a fool, m8?" He logged out and I never heard from him since.
Beware my friends of the names iceman855 and opsmasher. The bridge anti-lure may theoretically work, but if you want to take that risk, do it on your own time and not when a "friend" invites you to do it with them.
Credits:
Director: Ace McLeod
Starring: Paragade as "opsmasher"
FIN
Last edited by Ace Mcleod on Sun Jan 31, 2016 11:59 pm; edited 1 time in total

Ace Mcleod

Guard





Posts

: 36


Join date

: 2015-07-08


Age

: 28


Location

: Morytania



Described in one meme:

Chaos

White Knight





Posts

: 53


Join date

: 2015-07-08


Age

: 28


Location

: Tutorial Island



This is just amazing. More stories plox. I love how scammers think they have created some sort of invincible persona. I guess people are resorting to making longer term friends with the plan of betraying them the whole time. I've heard about someone getting scammed in a massive trust trade by someone they thought was a long time close friend. Was pretty gutsy of you to go in the wild with 20m worth. What I don't quite get about this story though, is how was his plan supposed to work? He explained the scam to you, so why did he think you would run across the bridge and fall?

Also, Lol @ this part: "Never, I repeat, never have I been approached by someone offering me money to play this bridge game. But within minutes of me and iceman standing at the ge I was targeted by a shady fella named opsmasher."
It wasn't in the wild. It's the really damaged bridge in the temple of Ikov that in order to cross, you must be 0kg or less.
And maybe he had an ace up his sleeve (hahaa puns) despite me knowing how to counter the scam. I'm not sure how to answer that one. You'll have to ask the iceman himself.

Ace Mcleod

Guard





Posts

: 36


Join date

: 2015-07-08


Age

: 28


Location

: Morytania




Paragade

White Knight





Posts

: 65


Join date

: 2015-07-08


Age

: 26


Location

: Victoria, Australia



Now we know his true identity!

Ace Mcleod

Guard





Posts

: 36


Join date

: 2015-07-08


Age

: 28


Location

: Morytania



That we do, his luring days are numbered

Paragade

White Knight





Posts

: 65


Join date

: 2015-07-08


Age

: 26


Location

: Victoria, Australia



Similar topics
---
Permissions in this forum:
You
cannot
reply to topics in this forum